back to top
---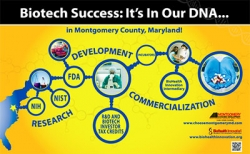 The Montgomery County Department of Economic Development and our partner, BioHealth Innovation, Inc., invite you to visit us at Booth 1423, the Maryland Pavilion, during the BIO International Convention in Chicago, April 22 - 25.
Nearly 50 Montgomery County biotech companies, organizations, or public sector entities will attend. Twenty-six Maryland organizations, companies or public-sector entities will be represented in the Maryland Pavilion, Booth 1423, including the following from Montgomery County:
back to top
---
As part of the University of Maryland's 26th Annual Invention of the Year Awards ceremony held at the University of Maryland Golf Course on April 16, BioHealth Innovation sweetened the pot for this year's three award winners. BHI offered each award winner strategic consulting services on federal grants or SBIR awards – valued at $2,500 per company. The BHI Commercial Relevance Program is designed to support small businesses in commercializing their technological research efforts.
The three winning inventions were:
INFORMATION SCIENCE CATEGORY:
Winner:
Time-Reversal Division Multiple Access for Wireless Broadband Communications
Feng Han, Yu-Han Yang, Beibei Wang, Yongle Wu and K. J. Ray Liu
LIFE SCIENCE CATEGORY:
Winner:
A Method for Early Diagnosis of Amyotrophic Lateral Sclerosis (ALS)
Eva Chin and Dapeng Chen
PHYSICAL SCIENCE CATEGORY:
Winner:
A Method for Rapid, Inexpensive Prototyping of Microfluidic Devices
Omid Rahmanian, Donald DeVoe
back to top
---

Time-reversal techniques for optimizing broadband communication networks and rapid prototyping of microfluidics devices were among the Clark School of Engineering inventions recognized as the most promising new technologies at the University of Maryland Invention of the Year Awards.
The University of Maryland's Office of Technology Commercialization (OTC) hosted the 26th Annual Invention of the Year Awards reception on Tuesday, April 16, 2013 from 4:30-6:00 pm at the University of Maryland Golf Course Club House.
back to top
---

On the evening of April 15 as part of the InvestMaryland Challenge Award ceremony held at MICA in Baltimore, BHI presented three awards to local companies. Boss Medical LLC of Baltimore, ConverGene LLC of Gaithersburg, and Vasoptic Medical LLC of Columbia were selected for the awards based upon their high quality products under development, which have good possibility for securing federal funding with support and assistance. Each award – valued at $2,500 – consists of consulting services from BHI on Small Business Innovation Research (SBIR) or federal funding proposals. The SBIR program is designed to support small businesses in commercializing their technological research efforts.
For more information contact Ethan Byler.
back to top
---

The NIH is the premier biomedical research center for the world. Its 27 Institutes and Centers employ approximately 18,000 employees doing a vast array of jobs, all supporting efforts for a healthy nation. For information on the NIH mission, goals, and Institutes and Centers, visit NIH Overview.
The Office of Translational Alliances and Coordination (OTAC) in the Division of Extramural Research Activities (DERA), National Heart, Lung, and Blood Institute (NHLBI) is seeking outstanding candidates for the Health Scientist Administrator (Business Development Specialist) position. The OTAC is charged with accelerating the translation of basic discoveries and innovations into new diagnostics, devices, and therapeutics, and facilitating the development of new technologies via Small Business Innovation Research (SBIR) initiatives. The Office facilitates identification of emerging areas of translational opportunities and provides functional integration by developing interdependent teams that leverage resources and intellect across the NHLBI, and with other NIH Institutes, agencies, and organizations. The OTAC enhances communication and coordination between existing programs, develops and coordinates strategic initiatives and Funding Opportunity Announcements (FOAs), and identifies and capitalizes on synergies to meet and enhance program goals.
back to top
---

Remedium Technologies Inc., a medical device company developing innovative products to control severe hemorrhaging, was awarded a $500,000 Small Business Innovation Research (SBIR) grant from the National Science Foundation to test the company's sprayable foam for rapidly halting traumatic bleeding, company officials announce today.
In collaboration with Massachusetts General Hospital and the University of Maryland, Remedium will complete pre-clinical trials to evaluate the safety and efficacy of Hemogrip(TM) Foam in controlling non-compressible hemorrhaging, i.e., bleeding not accessible to direct pressure. Hemogrip(TM) is a high-pressure, sprayable foam that can expand into an injured body cavity, adhere to tissue and stop hemorrhaging within minutes during the expansion process. There are currently no hemostatic products available for treatment of non-compressible bleeds, which account for 85 percent of hemorrhage-related deaths.
back to top
---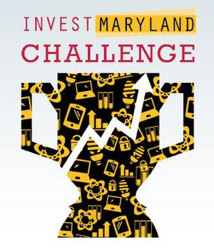 Two Baltimore companies took top honors in the state's first InvestMaryland Challenge.
GrayBug, which is developing drug delivery technology; and RedOwl Analytics, a software company, were the winners of the startup business competition's life science and information technology categories. An LED lighting company in Cecil County, i-Lighting, won the contest's category for general industry. Some 260 startups from 26 states, including Maryland, threw their hats in the ring.
back to top
---
Cleave Biosciences has added $10 million in Series A financing from new investor New Enterprise Associates, bringing its Series A total to $54 million. In the fall of 2011, Cleave raised $44 million from US Venture Partners, 5AM Ventures, Clarus Ventures, OrbiMed Advisors, Astellas Venture Management and Osage University Partners. The company is focused on cancer drug discovery and development.
Cleave is discovering novel drugs that affect protein degradation pathways. Cancer cells frequently make an excess of proteins and hence become dependent on protein degradation for their survival. By attacking key targets in these pathways, cancer cells fail to balance this excess protein synthesis with protein degradation and can no longer survive.
back to top
---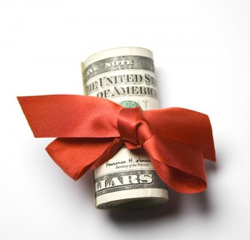 The Washington region raised some $286 million in venture funding last quarter, assuming you stretch your idea of the region to include Stevensville, Md., and Blacksburg, Va. So what did we learn from three months of venture data? Here are five takeaways.
1. Deals down, dollars up: The number of deals in Q1 2013 (30 deals) was down compared with the prior quarter (36 deals), as well as Q1 2012 (45 deals), while the dollar amount was up. When 2012 went out with the crappiest quarter since 2009, the drop was attributed to the lack of big deals.
back to top
---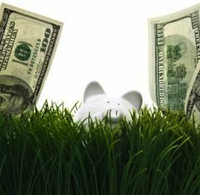 Twelve Maryland companies, including five from the Baltimore area, received a total of $83.8 million in venture capital funding in the first quarter.
That was up 20 percent from the $69.7 million that 15 Maryland firms received in first quarter 2012, according to a MoneyTree Report by PricewaterhouseCoopers and the National Venture Capital Association. The report uses data from Thomson Reuters.
back to top
---

The Washington region raised a collective $286 million in venture capital during the first three months of 2013, thanks in large part to a $110 million financing for D.C.-based LivingSocial Inc., according to the MoneyTree report released Friday by PricewaterhouseCoopers LLP and the National Venture Capital Association.
At first blush, the number looks like good news for the region, a marked improvement from the $95 million raised in fourth quarter of 2012. Assuming the upswing holds for three more quarters, we just might be on track to fulfill Steve Case's prediction of a $1 billion year.
back to top
---

The purpose of the NHLBI SBIR Phase IIB Small Market Award is to provide support to Phase II SBIR awardees developing NHLBI mission-related technologies that address a rare disease or young pediatric populations. The goal of this FOA is to de-risk these technologies so that development can continue with private funding after NHLBI support ends; therefore, applicants must submit a Commercialization Plan, which should include details on any independent third-party funding that has already been secured or is anticipated during the project period. It is expected that the level of this independent third-party funding will be equal to or greater than one-third of the NHLBI funds being requested throughout the project period. Projects proposed in response to this FOA must require eventual Federal regulatory approval/clearance, and may address preclinical and/or clinical stages of technology development. Clinical trials may be proposed as appropriate, but are not required.
back to top
---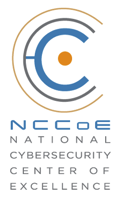 Leaders of 11 top high-tech companies — including Microsoft Corp. and Intel Corp. — signed a partnership agreement Monday with a fairly new Rockville-based center on cybersecurity, pledging to work together to further that growing industry.
The companies will help the National Cybersecurity Center of Excellence — an agency formed a year ago by the federal National Institute of Standards and Technology, Montgomery County and the state of Maryland — develop leading-edge technology to combat hackers and other cyber-criminals, officials said.
back to top
---
New York City nonprofit Venture for America, which provides entrepreneurship training for recent college graduates, is adding Baltimore to its roster of cities this year.
Venture was founded in 2011 to encourage entrepreneurship through practical experience. It officially launched last year in five cities: Detroit, Cincinnati, New Orleans, Las Vegas and Providence, Rhode Island. This year, Baltimore and Cleveland are on board.
back to top
---

These infographics from DrugPatentWatch.com and BiologicPatentWatch.com track innovation and patent activity in the pharmaceutical and biotechnology industries:
back to top
---
President Obama has challenged us all to help win the future by out-educating, out-innovating, and out-building our competitors in the 21st century.
Know someone who is doing extraordinary things to make a difference in your community? Nominate them to be a Champion of Change. We'll consider your nominations as we feature people who are bringing about change in their communities on the White House website to share their ideas on how to win the future.
back to top
---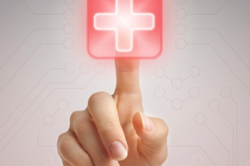 Entrepreneurs in any industry need to start with a big idea – and a big tolerance for risk. But in health care, startups often need to take on a unique set of regulatory hurdles, complex systems and entrenched ways of getting things done to successfully build and scale.
At the TEDMED conference Thursday, a few of the industry's most seasoned entrepreneurs and investors gave emerging startups a dose of advice. Here are a few of their tips:
back to top
---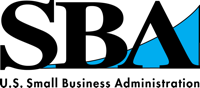 U.S. Small Business Administration chief Karen Mills was in Baltimore on Thursday to highlight the agency's education program for entrepreneurs.
Baltimore was one of the first cities to launch SBA's Emerging Leaders program, formerly called E200 back in 2008. The program offers a seven-month course in which a select group of business owners learn the skills they need to grow their companies.
back to top
---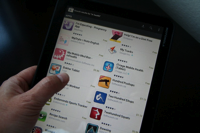 There's been discussion recently about a lack of life science venture capital enthusiasm for emerging digital health companies. I happen to feel that this concern is misplaced. I engaged industry and opinion leaders on this subject plus have my own thoughts on the digital health funding environment.
In his latest article in Forbes, contributor David Shaywitz characterizes life science venture capitalists as just "kicking tires" on potential digital health investments, citing fears from prominent investor Nimesh Shah that innovations in digital health are "merely a bubble," and that these firms lack a "real biz model."
back to top
---

The Universities at Shady Grove (USG) and the Rockville Institute come together annually to offer this dynamic, interactive seminar series. The series stimulates an exchange of ideas among practitioners, researchers, policymakers, students, and the public at large about contemporary social issues. Seminars are free and open to the public.
LGBT Youth in Foster Care: Challenges and Strategies
Thursday, March 14, 2013 - 4:30pm
What Is a Meaningful Use of an Electronic Health Record?
Tuesday, April 2, 2013 - 4:30pm
Enhancing Learning in STEM Through the Creation of Master Teachers
Wednesday, April 24, 2013 - 4:30pm
back to top
---

The U.S. market for remote patient monitoring, valued at $104.5 million in 2012, is forecasted to reach $296.5 million by 2019, a compound annual growth rate of 16 percent, according to a new report from GBI Research.
Chronic diseases represent an overwhelming burden for healthcare systems in developed countries, due to increasingly elderly populations, and a clear need exists for remote patient monitoring to help lift the load off stretched healthcare resources, according to the report Remote Patient Monitoring Market to 2019 – Potential to Reduce Healthcare Cost Burden and Improve Quality of Care to Drive Future Growth.
back to top
---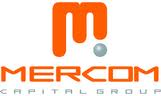 With nearly half a billion dollars raised in venture capital funding for health information technology, the first three months of 2013 represented a "record quarter," according to Mercom Capital Group.
Some $493 million was raised industry-wide, according to Mercom's 2013 Healthcare IT Funding and M&A Report, in twice as many deals as the previous quarter (104, up from 51). There were nearly four times as many early stage deals – 42, up from 14 – compared to the fourth quarter of 2012.
back to top
---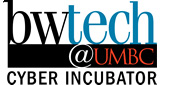 The University of Maryland, Baltimore County and Northrop Grumman Corp. last month expanded their Cync cybersecurity program with three new companies, including the program's first international one. The three firms joined the five companies currently at bwtech@UMBC Research and Technology Park in Catonsville.
back to top
---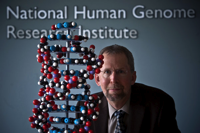 Eight years of work, thousands of researchers around the world, $1 billion spent — and finally it was done. On April 14, 2003, a decade ago this week, scientists announced that they had completed the Human Genome Project, compiling a list of the three billion letters of genetic code that make up what they considered to be a sort of everyperson's DNA.
back to top
---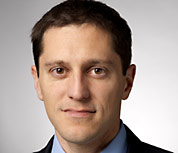 The need for innovation in healthcare has arguably never been greater. A range of factors, from aging world populations to rising standards of living in developing countries, are poised to drive long-run demand for innovative drugs, devices and medical technologies that can improve outcomes and reduce costs.
Ironically, however, funding for healthcare innovation remains in short supply. As industry participants are keenly aware, life science venture capital financing – which has played a critical role in helping translate research ideas into commercially useful medical technologies – is becoming increasingly scarce.
back to top
---