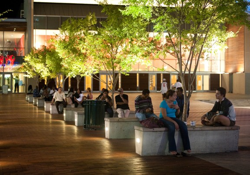 Montgomery officials are under no illusions about the county's image among the Washington region's young: boring.
"We're a little sleepy," said County Council member Roger Berliner (D-Potomac-Bethesda). "We go to bed early."
For all its prosperity and family-friendly suburban appeal, Montgomery is in the throes of a midlife crisis. That angst has led to a new item at the top of the public policy agenda: a yearning to be hip.
back to top
---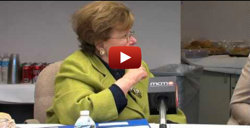 Sen. Barbara Mikulski (D) dropped by Rockville on Monday for lunch with the Montgomery County Council, where much of the hour-long meeting focused on the looming federal government sequester.
Mikulski said she realized the effect across-the-board spending cuts and furloughs of federal workers could have on the county, home to 17 agencies, 32,000 employees and the many contracting firms that work with those agencies. There has been little recent movement on avoiding the sequester on Capitol Hill.
back to top
---
POSITION DESCRIPTION – Entrepreneur-in-Residence
The Entrepreneur-in-Residence (EIR) will lead in the evaluation of early-stage technologies, provide a strategic plan for start-up companies, advise BHI on opportunities for new ventures, and lead the commercial strategy for mature assets. The EIR influences the BHI organization by strategically managing and providing information, intelligence and insights that drive critical business decisions. The EIR will oversee primary and secondary research and will provide strategic recommendations and insights on the direction of potential assets.
back to top
---
The Department of Health and Human Services SBIR/STTR grant solicitation aimed at supporting small business innovation research is now available.
Through the PHS 2013-02 SBIR/STTR Omnibus Solicitation, U.S. small businesses are encouraged to submit investigator-initiated SBIR/STTR grant applications in response to a variety of identified topics related to the National Institutes of Health, the Centers for Disease Control and Prevention, the Food and Drug Administration and the Administration for Children and Families.
The SBIR/STTR Reauthorization Act of 2011 and the recently released SBIR and STTR policy directives have brought about numerous – and often times, complicated – changes. In an effort to keep the small business research community aware of the impending modifications, the NIH has set up a new website providing a detailed overview of its implementation plan. In addition, HHS intends to revise or re-issue the Omnibus solicitation later this year. To stay informed, download a copy of the current solicitation and request to be updated as changes are made.
back to top
---

The National Cancer Institute (NCI) Small Business Innovation Research (SBIR) Program has announced $10M in funding for up to 10 new awards in FY2013.
The Phase IIB Bridge Award is designed to support the next stage of development for promising NIH-funded SBIR Phase II projects in the areas of cancer therapeutics, imaging technologies, diagnostics and prognostics, or interventional devices.
back to top
---
In partnership with BHI, the SBIR Resource Center(R) is offering a daylong seminar on How To Win SBIR Awards(SM) - at all federal agencies - with a primary emphasis on the National Institutes of Health (NIH). This event incorporates ALL of the necessary strategic planning, persuasive proposal writing, project planning/management and Federal project cost-accounting strategies to make your application successful. Walk away with a deep understanding of what it takes to win and an ability to customize SBIR/STTR win strategies for specific projects. Get equipped to evoke positive responses in SBIR/STTR proposal evaluators (very different from all other programs).
WHEN: Tuesday, 5 March 2013, 8:30am – 6:00pm (45 min. lunch break)
WHERE: Rockville Economic Development, Inc.95 Monroe Street - Rockville, MD 20850
(short walk from Rockville Metro Sta.)
301-315-8096 (location phone)
REGISTRATION: or call 410-315-8101 OR email the SBIR Center; Class limited to 18-20 participants
TUITION: $325 ($375 after February 25) -- satisfaction assured or tuition is returned
DISCOUNT: BioHealth Innovation may underwrite $175 of the tuition for select biohealth companies through its Commercial Relevance Program.
To inquire about the discount, Contact Ethan Byler
back to top
---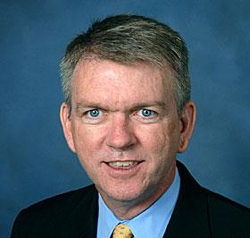 Dominick Murray has been unanimously confirmed by the Senate Executive Nominations Committee to be the next head of the state's economic development office.
Murray is scheduled to be sworn in to the role of secretary of the Maryland Department of Business and Economic Development by Gov. Martin O'Malley on Feb. 21.
back to top
---

United Therapeutics Corporation announced today that the U.S. Food and Drug Administration (FDA) has acknowledged the resubmission of the new drug application (NDA) for treprostinil diolamine extended release tablets (oral treprostinil) for the treatment of pulmonary arterial hypertension. The FDA classified the resubmission as a complete, class 1 response to FDA's October 23, 2012 complete response letter and the FDA set a user fee goal date of March 31, 2013.
back to top
---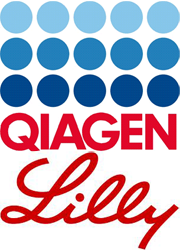 Diagnostic products maker Qiagen NV said Wednesday that it will work with Eli Lilly and Co. to develop new tests that could identify patients who could be helped by Lilly's drugs.
The companies did not disclose terms of the new collaboration, but described it as a "broad" partnership that will cover "all therapeutic areas."
back to top
---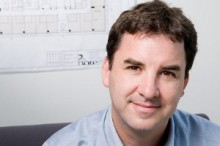 The Cambridge Innovation Center, a longtime fixture of the Boston-area startup scene, is expanding its entrepreneur-friendly office space business to new cities—just as it continues to build a larger footprint in its hometown.
The CIC, which rents office space and related services to more than 500 companies in seven floors of a building near MIT, has been advertising for a general manager at a new Baltimore location. And CEO Tim Rowe says that's not the only place the CIC is eyeing for a possible expansion.
back to top
---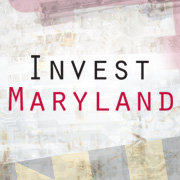 The Maryland Department of Business and Economic Development said 71 startups that entered its InvestMaryland Challenge have been selected from more than 250 applications to advance to the competition's next round.
Eventually, three companies will win $100,000 and a chance to pitch their business to potential investors.The $100,000 prizes will be awarded in three categories: life sciences, information technology and general business.
back to top
---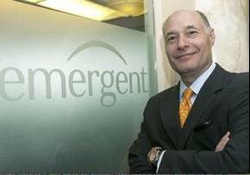 Emergent BioSolutions Inc. (NYSE: EBS) announced today that a member of the company's senior management team will provide a corporate overview presentation at the Cowen and Company 33rd Annual Health Care Conference in Boston on Monday, March 4, 2013 at 3:30PM Eastern.
A webcast of this presentation will be available both live and by replay, accessible from the Emergent website www.emergentbiosolutions.com under "Investors".
back to top
---

On Friday, the Department of Defense announced that it has awarded The Johns Hopkins University Applied Physics Laboratory a five-year, sole source, cost-plus-fixed-fee, indefinite-delivery/indefinite-quantity task order contract to conduct research, development, engineering, and test and evaluation work for programs "throughout the Department of Defense."
The contract envisions Hopkins scientists performing up to 11,964,743 staff-hours' worth of research and development work through September 2017. Work would be performed in "core competency" areas such as "strategic systems test and evaluation; submarine security and survivability; space science and engineering; combat systems and guided missiles; theater air defense and power projection; and information technology (C4ISR/IO), simulation, modeling, and operations analysis."
back to top
---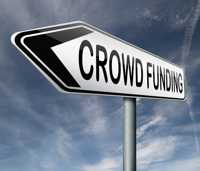 A piece in Forbes this week calls attention to a recent trend in technology commercialization at universities: the use of crowdfunding.
The article focused on a collaboration between the University of Utah's Technology Commercialization Office and the crowdfunding site RocketHub, which resulted in the University Tech Vault, a portal specifically for projects that come out of the university.
back to top
---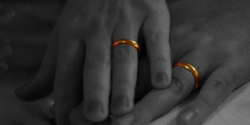 As Valentine's Day approaches the occasion begs the question: what does it take for two companies in the biopharmaceutical industry to merge? Of all the things that could come between them, how do a biotech startup and suitable partner find each other in this crazy, mixed up world?
Like any good marriage, the reasons that bring a couple together span of a good merger is more than meets the eye. The companies involved share similar goals and work hard to ensure the union endures. But there are all sorts of things That was the gist of an insightful panel discussion at the BIO CEO conference in New York. Among the panelists were: Michael Margolis, a managing director with ROTH Capital Partners, Effie Toshav, partner with Fenwick & West H.Thomas Watkins, former president and CEO of Human Genome Sciences until it was acquired by GlaxoSmithKline, Michael Gilman, a senior vice president at Biogen Idec and Corrine Epperly, the director of strategy, alliances and transactions at Bristol Myers-Squibb (NYSE: BMS)
back to top
---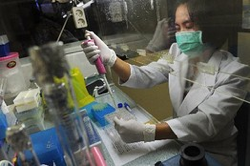 For years, U.S. life-sciences startups have sought to avoid some of the problems in their industry–including a scarcity of investment funding and a sometimes-daunting regulatory process–by raising funding or commercializing overseas.
Nowadays, foreign organizations and governments are the ones making the overtures, hoping that American life-sciences companies can create jobs and stimulate the life-sciences industries in their countries.
back to top
---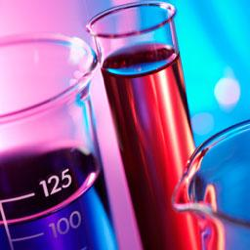 The steady departure of pharmaceutical industry jobs in recent years has helped other states, but hurt the standing of the nation's medicine chest. As more companies take root in far-flung locations, the New Jersey and New York City region has dropped significantly in the national ranking of life sciences markets, according to a recent report on commercial real estate.
Last year, the region slipped to seventh place among metropolitan life sciences clusters from second place in 2011, according to the latest annual report from Jones Lang LaSalle, the commercial real estate firm. The reasons cited for the slide: ongoing consolidation following big mergers and the simultaneous efforts among such cities as San Diego to offer competitive environments.
back to top
---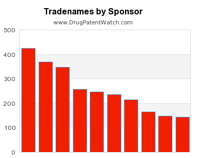 This chart shows the pharmaceutical companies with the most branded drugs.
The companies with the most drugs are Watson Labs, Hospira, Sandoz, Baxter Hlthcare,Mylan, Teva, B Braun, Roxane, Novartis, and Ivax Sub Teva Pharms.
back to top
---

Innovate Health Tech NYC invites software and hardware developers and other innovators living or working in New York City to create new commercially viable technologies that solve urgent health care problems. Individuals, teams, and companies with 10 or fewer employes can compete, and will be required to demonstrate a functioning prototype of a pre-commercial technology in their submission. Technologies may include, but are not limited to, healthcare analytics tools, clinical workflow management tools, mobile health applications, and wireless health monitoring devices. Contestants are encouraged, but not required, to address healthcare priority areas identified by New York City.
back to top
---

PILOT Health Tech NYC is an exciting new program which provides funding of up to $100,000 each to 10 innovative pilot projects to take place in New York City. The program seeks to match early-stage healthcare technology companies ('innovators') with key NYC healthcare service organizations or individuals ('hosts'), including hospitals, physician clinics, payors, pharma companies, and nursing associations. Each pilot project will be focused on addressing defined needs of the healthcare industry and testing a technology prototype in a healthcare setting for a period of approximately 3-6 months.
back to top
---

The Rice University Business Plan Competition is the world's richest and largest graduate-level business plan competition. It is hosted and organized by the Rice Alliance for Technology and Entrepreneurship, Rice University's nationally recognized entrepreneurship initiative, and the Jesse H. Jones Graduate School of Business, the #4 Best U.S. Graduate Entrepreneurship program per the Princeton Review.
In its 13th year, 42 teams from around the world will compete on campus April 11-13, 2013 for more than an expected $1 million + in cash and prizes in front of over 250 judges, primarily venture capitalists and other investors. More than 1200 teams applied to compete in 2012 and the competition was supported by more than 130 sponsors. More than 133 past competitors have successfully launched their business after competing at Rice, are still in business today, and have raised more than $480 million in funding.
back to top
---