Welcome to BioHealth Innovation News, a new Central Maryland e-newsletter focused on bringing to you the lastest news and developments in the vibrant biohealth industry. This newsletter is produced and distributed by BioHealth Innovation Inc. (BHI), a new private public partnership whose mission is "to connect market relevant biohealth assets to appropriate funding, management and markets that will result in commercially viable products and companies."
As the interim CEO of BHI, I have the privilege of working with a committed team and an esteemed board of directors. I would like to give special thanks to one of our key partners, the Montgomery County (Maryland) Department of Economic Development, for providing its extensive database as part of our initial distribution list. We are also working with other stakeholders to grow our database of interested parties in biohealth news.
This newsletter will cover regional, national and global news and trends related to biohealth. We welcome your contributions of breaking news and original content. Please send any news, suggestions or inquiries to Lily Qi at lqi@biohealthinnovation.org.
We are excited about the growth opportunities in the Central Maryland region and hope that we can be an effective intermediary in this biohealth ecosystem.
Best regards,
Richard A. Bendis
Interim CEO BioHealth Innovation Inc.
e-mail:rbendis@bendisig.com
www.biohealthinnovation.org
back to top
---
BioHealth Innovation, Inc. (BHI), a new regional private-public partnership focusing on commercializing market-relevant biohealth innovations and increasing access to early-stage funding in the Central Maryland region, announced today the appointment of its Board of Directors, including Scott Carmer, MedImmune Executive Vice President of Commercial Operations, as Chairman.
"The State of Maryland is known as one of the most well-established biohealth research regions in the world," said Richard Bendis, BHI Interim CEO, "what we need is an integrated commercialization ecosystem to turn such research assets into economic success by fostering the next generation of 'MedImmunes' here. We are grateful for MedImmune's strong support and Scott's leadership to help us advance early-stage research from laboratories to market with the founding of new start-up companies."
back to top
---

BioHealth Innovation, Inc. (BHI), a new regional private-public partnership focusing on commercializing market-relevant biohealth innovations and increasing access to early-stage funding in Central Maryland, announced today it has entered into a Partnership Intermediary Agreement (PIA) with the National Institutes of Health's (NIH) Office of Technology Transfer (OTT). As a partnership intermediary for NIH OTT, BHI will assist, counsel, advise, evaluate and cooperate with small businesses or educational institutions to make productive use of technologies from a federal laboratory.
"We are thrilled to partner with NIH to accelerate technology transfer and the commercialization of early-stage research," said Richard Bendis, BHI Interim CEO. "This Agreement will allow health care industry experts to proactively identify market-relevant technologies being conducted at one of the finest research institutes in the world to better capture the commercial value of those technologies. Ultimately, the goal is to advance human health care while growing jobs in Central Maryland."
back to top
---
Montgomery County's Department of Economic Development has tapped Sally Sternbach as deputy director. Sternbach, who was executive director of Rockville Economic Development Inc., will work directly with Steve Silverman, director of the department. Montgomery County Press Release
Sally Sternbach, Executive Director of Rockville Economic Development, Inc. (REDI), has been appointed to serve as Deputy Director of Montgomery County's Department of Economic Development. Sternbach has served as executive director of REDI since 2003. Lynne Benzion, REDI's associate director, has been appointed Acting Director while a formal search is conducted.
back to top
---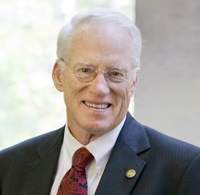 University System of Maryland Chancellor Brit Kirwan
A new collaboration approved Thursday between the University of Maryland, College Park and University of Maryland, Baltimore could invest millions of dollars into the state's tech community.
The University System of Maryland Board of Regents gave the OK to a long term plan for increased collaboration between College Park and UMB. The move comes almost a year after Senate President Thomas V. Mike Miller proposed a merger between the two schools, which was ultimately rejected by the regents.
back to top
---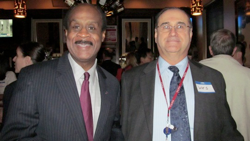 When it came time to generate a little "buzz" for its latest initiative – Deals on Wheels – the Johns Hopkins Technology Transfer office (JHTT) turned to the popular BioBuzz biotechnology industry happy hour series in Montgomery County. And they weren't disappointed… January's happy hour drew more than 100 biotech industry professionals who wanted to learn more about the Deals on Wheels program and have an opportunity to network with colleagues.
Deals on Wheels is an innovative program designed to bridge the geographical gap between Johns Hopkins University's researchers in Baltimore and biotech companies and entrepreneurs in Montgomery County. Through Deals on Wheels, technology companies and entrepreneurs in Montgomery County will have the opportunity to connect one-on-one with Johns Hopkins representatives to discover potential partnership opportunities that include, licensing agreements, start-ups, core facilities, sponsored research, material transfer agreements, research collaborations, and clinical trials.
back to top
---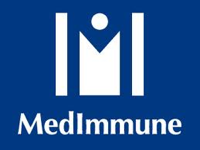 The US Food and Drug Administration (FDA) has approved MedImmune's, the global biologics arm for AstraZeneca PLC, FluMist Quadrivalent (Influenza Vaccine Live, Intranasal), a vaccine to prevent seasonal influenza in people ages 2 years through 49 years. The company submitted the sBLA early in the second quarter of last year.
FluMist Quadrivalent is the first influenza vaccine to contain four strains of the influenza virus, two influenza A strains and two influenza B strains. All other currently available licensed seasonal influenza vaccines are trivalent, containing three strains [two strains of type A influenza (A/H1N1 and A/H3N2) and one B lineage strain].
back to top
---
Health and Human Services Department Chief Technology Officer Todd Park will be the next federal CTO, replacing Aneesh Chopra, the White House announced Friday.
Park made millions in healthcare technology before joining HHS in 2009. He initially was hired as the department's "entrepreneur in residence."
According to a June 2011 report in The Atlantic, Park, by age 24, had co-founded the health care technology company Athenahealth. "Nearly 10 years later he made a fortune when the company went public with a market capitalization exceeding $1 billion," the magazine reported. The Atlantic and Nextgov both are part of Atlantic Media.
back to top
---

Steady progress toward broader adoption of BENLYSTA treatment
Human Genome Sciences, Inc. HGSI +1.18% will today announce its priority goals for 2012 and report on progress with the commercialization of BENLYSTA(R) (belimumab), the first approved drug for systemic lupus in 56 years, during a presentation this afternoon by H. Thomas Watkins, President and Chief Executive Officer, to financial analysts and investors at the 30th Annual JPMorgan Healthcare Conference in San Francisco.
"Thousands of patients with systemic lupus are now being treated with BENLYSTA," said Mr. Watkins. "We are pioneering a treatment in a market that has not seen a new option for patients in decades. Although we are still in the early adoption phase of our launch, our experience in the market to date reinforces our belief that BENLYSTA will ultimately play a major role in improving the standard of care for SLE patients."
back to top
---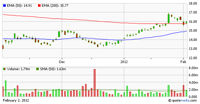 QIAGEN N.V. (NASDAQ: QGEN) has announced results of operations for the fourth quarter and full-year 2011, making significant progress on strategic initiatives to drive growth and innovation.
Net sales in the fourth quarter advanced 17% (+17% at constant exchange rates, or CER) to $334.4 million from the fourth quarter of 2010. Adjusted operating income in the quarter grew 16% to $95.6 million compared to the fourth quarter of 2010 as the adjusted operating income margin was steady at 29% of net sales. Adjusted diluted earnings per share (EPS) rose to $0.31 in the fourth quarter of 2011 from $0.26 in the same quarter of 2010. Results for the fourth quarter of 2011 included a restructuring charge of $75 million for a project announced in November to enhance productivity by streamlining the organization and freeing up resources for reallocation to strategic initiatives.
back to top
---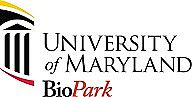 The University of Maryland BioPark announced today that Ablitech, Inc., a biotechnology company developing polymer-based delivery systems for gene silencing, has signed a lease for laboratory space in the BioPark's BioInnovation Center. With its move to Baltimore, Ablitech joins an impressive line-up of commercial tenants in the BioPark, a biomedical research park on the vibrant academic medical center campus of the University of Maryland, Baltimore (UMB). The BioPark's community of life science companies and academic research centers is commercializing new drugs, diagnostics and devices and advancing biomedical research.
"After thoroughly researching the best location to continue growing Ablitech, the UM BioPark rose to the top of the list among East Coast locations as our ideal choice for relocating," said Ken Malone, Ph.D., Ablitech's Chief Executive Officer. "Located in the heart of West Baltimore City and Maryland's leading biotechnology cluster and offering flexibility of laboratory and office space in buildings developed by Wexford Science & Technology LLC, the BIoPark offers the best of all worlds for a growing biotech organization."
back to top
---

The Maryland Technology Development Corporation (TEDCO), in collaboration with The Abell Foundation, announced today the establishment of the $3.3 million Propel Baltimore Fund, an angel investment fund for entrepreneurs and start-up companies located in Baltimore City. TEDCO will administer the fund and will begin accepting applications on April 2, 2012. Through the fund, companies may receive maximum investments up to $220,000.
"The Propel Baltimore Fund was created to help support the establishment and development of promising businesses in Baltimore City," said Abell Foundation president Robert C. Embry, Jr. "The Abell Foundation wants to ensure that innovators recognize Baltimore as an attractive location to start, build and sustain their businesses. TEDCO has an excellent track record as a state-of-the-art resource for entrepreneurs, and we are confident that the organization will be a strong partner in managing the fund and in supporting economic development in the city."
back to top
---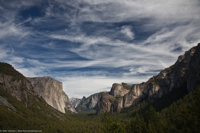 One prominent biotechnology venture capital researcher says the concept of the early stage funding valley of death is an "artifact" and actually a reflection of the classic supply and demand.
Many entrepreneurs, investors and life sciences industry veterans take the existence of the valley of death almost as an article of faith. The meme goes that young companies enter that valley, in which attracting investment capital becomes extremely difficult, at an early stage, typically between an initial round of angel funding and the company's first institutional series A round.
back to top
---

Starting a company is always challenging, but for founders of life science startups, the regulations and funding hurdles make it dauntingly complex, overwhelming, and seemingly insurmountable.
This first-time conference will answer the critical questions that founders must address to start and grow viable life science companies. Industry experts and successful entrepreneurs will provide practical guidance on how to commercialize innovations in each of four sectors: medical device, therapeutics, diagnostics, and digital health. If you have a new startup in this space or are ready to start one, this two-day event may be for you.
back to top
---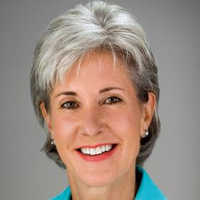 The federal government has paid more than $3 billion to U.S. hospitals and doctors offices in the process of switching patient records from paper to computers.
U.S. Department of Health and Human Services Secretary Kathleen Sebelius visited Kansas City Friday to report the progress of health care providers in adopting electronic health record technology.
According to the Centers for Medicare and Medicaid Services, it has paid out $3.12 billion in incentive payments to almost 2,000 hospitals and more than 41,000 physicians who have shown that they are using technology that federal and industry officials say can improve quality of care and lower costs.
back to top
---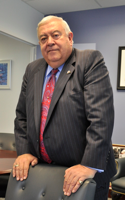 February 17, 2012 - Last night, nearly 300 of Maryland's business leaders and lawmakers gathered for Corridor Inc.'s Sixth Annual Person of the Year Awards, held at the brand new Hotel at Arundel Preserve. What began in December with 21 accomplished and worthy nominees was narrowed down by reader votes to one person: Aris Melissaratos, Senior Advisor to the President for Enterprise Development at Johns Hopkins University.
When Aris Melissaratos first arrived in Maryland, he was 13 years old and spoke not a word of English. His parents had brought him to the United States as they escaped communism and economic hardship. Now, Melissaratos is known throughout Maryland and the region for his entrepreneurship, work ethic, community involvement, and leadership.
back to top
---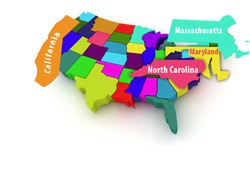 The four states with the nation's largest biotech clusters showed that they too were not immune to challenges common to most U.S. regions seeking to build their life science presence. Hurdles included a capital squeeze particularly for early-stage biopharmas, the reality of the industry's international growth, and the need to attract new businesses and retain existing ones.
All four top-tier biotech states—California, Massachusetts, North Carolina, and Maryland—did, however, find numerous ways to address these challenges. They rolled out new financing programs or tweaked existing ones. In some cases they reached out to regions around the world. In others they identified promising niches within their clusters. Signs of success could be seen in a series of new construction and expansion projects.
back to top
---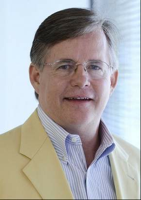 Two Maryland biotechs announced inroads in their efforts to develop stem cell treatments for depression and diabetes.
Neuralstem has gotten the regulatory go-ahead to advance to phase 1b in its ongoing clinical trial of its stem cell treatment for major depressive disorder.
NSI-189 stimulates new neuron growth in the brain's hippocampus, which may be involved in depression and other conditions, including Alzheimer's disease and post-traumatic stress disorder, according to the Rockville biotech.
back to top
---
Jim Hughes and Phil Robilotto see more than 100 ideas each year from scientists at the University of Maryland, Baltimore, potential innovations with a promise to better diagnose disease, alleviate pain, make medical care delivery more efficient, even save lives.
The biggest challenge is selling investors on the merits of research still in its infancy.
back to top
---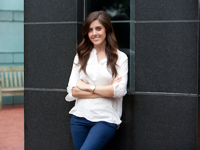 In a town that's typically hungry for consumer Internet startups, health companies finally have a place to go.
The second class of health technology companies has had a month to settle into the Rock Health incubator in San Francisco.
Rock Health founder Halle Tecco is creating a community devoted to the healthcare space, the same way Paul Graham has seeded many successful companies through his Y Combinator program.
"Last year, no one knew what Rock Health was, but now it's a destination for healthcare entrepreneurs," Tecco said.
back to top
---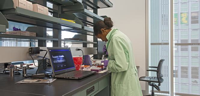 State governments in 2011 continued to see regional economic growth in the life sciences industry and in 2012 will increasingly focus attention on technology transfer and venture funding as mechanisms to increase private sector innovation related activities within their jurisdictions. Realizing that entrepreneurship is a key ingredient in economic development, states and localities are undertaking the support of programs that assist high technology businesses, and that capitalize on state regional presence of universities and federal laboratories.
Once research yields a new discovery from a university or federal laboratory, there is still a great deal of work in creating a company and funding that research before the technology can be incorporated into the marketplace. The following are state legislative examples of ways industry, universities, and policymakers are creating essential building blocks for bioscience industry growth in company creation and capital for success.
back to top
---