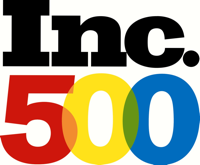 This week, October 15-19, 2012, is Economic Development Week across Maryland, initiated and sponsored by the Maryland Economic Development Association (MEDA). In recognition, the Montgomery County Department of Economic Development (DED) announces eleven local companies making the 2012 Inc. 500 list of fastest growing companies, key events taking place this week to support local businesses and several mixed-use development projects coming soon to the County.
Eleven of Maryland's twenty companies making the Inc. 500 list are located in Montgomery County. The list ranks companies using several criteria, namely growth over the previous three years and amount of sales in 2011.
The Montgomery County companies making the list, in rank order, are:
back to top
---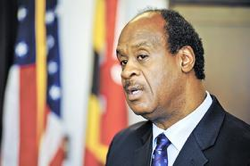 Montgomery County Executive Ike Leggett wants to provide some high-tech companies with capital in exchange for ownership stakes in the businesses, a first for a local jurisdiction.
Leggett's economic development team hopes to have such a bill before the County Council in two weeks. The proposal would be similar to Maryland's State Challenge Investment Program, said Peter Bang, chief operating officer for the county's Department of Economic Development.
back to top
---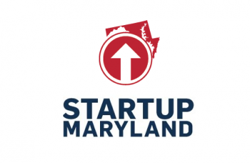 Historically startups have been synonymous with Silicon Valley, but as more and more communities across the country support entrepreneurs we hope to change this perception. As of today, we have launched 30 Startup Regions across the country. This week we shine a spotlight on Maryland as a vibrant and supportive community for startups.
Startup Maryland launched on March 30, 2012 at the University of Maryland, College Park campus. Kevin Plank, Founder & CEO of Under Armour and Startup America board member, was in attendance and the whole room was buzzing with excitement.
back to top
---

The Johns Hopkins University performed $2.1 billion in medical, science, and engineering research in fiscal 2011, making it the leading U.S. academic institution in total research and development spending for the 33rd year in a row, according to a new National Science Foundation ranking.
The university also once again ranked first on the NSF's separate list for federally funded research and development, spending $1.88 billion in FY2011 on research supported by NSF, NASA, the National Institutes of Health, and the Department of Defense. In FY2002, Johns Hopkins became the first university to reach the $1 billion mark on either list, recording $1.14 billion in total research and $1.023 billion in federally sponsored research that year.
back to top
---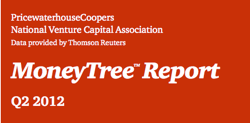 Venture capitalists invested $7.0 billion in 898 deals in the second quarter of 2012, according to the MoneyTree™ Report from PricewaterhouseCoopers LLP and the National Venture Capital Association, based on data provided by Thomson Reuters. Quarterly venture capital investment activity climbed 17 percent in terms of dollars and 11 percent in the number of deals compared to the first quarter of 2012 when $6.0 billion was invested in 809 deals.
The number of Early stage deals reached the highest quarterly total since the first quarter 2001, with $2.1 billion going into 410 deals, an 18 percent increase in dollars and a 28 percent increase in deals from the prior quarter. The Internet-specific sector also saw increases during the second quarter, rising 22 percent in dollars and 31 percent in deals from the prior quarter to $1.8 billion going into 261 deals in the second quarter.
back to top
---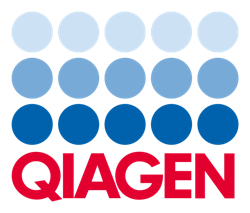 QIAGEN N.V. today announced that China's State Food and Drug Administration (SFDA) has approved QIAGEN's careHPV Test and instrument platform. The careHPV Test is the first molecular diagnostic to screen for high risk human papillomavirus (HPV) designed for low-resource clinical settings, such as areas lacking electricity, water or modern laboratory infrastructure. QIAGEN expects to announce the product availability of careHPV in China in January 2013, followed by India later in 2013 and other emerging markets as approvals are received. QIAGEN will introduce the careHPV Test and key data of its performance at the International Papillomavirus (IPV) conference, starting November 30 in Puerto Rico.
QIAGEN is the global market leader in HPV testing with its "gold standard" digene HC2 HPV Test, the most validated and sensitive diagnostic for detection of high-risk HPV – a primary cause of cervical cancer. It is the only assay that has demonstrated its effectiveness in close to 1 million women in clinical, randomized and independent studies. The digene HC2 test, compatible with modern laboratories and automated processing, is widely used in developed countries and large cities in emerging markets, including China. The digene HC2 test has protected more than 100 million women so far and remains QIAGEN's core product for cervical cancer prevention. The careHPV and digene HC2 tests are both based on clinically proven Hybrid Capture technology, and are highly complementary because they serve different laboratory needs.
back to top
---

The MdBio Foundation, Inc. today announced that it has named Brian Gaines as its CEO. Gaines brings more than 25 years of leadership, philanthropic and management experience to the MdBio Foundation. He has spent the majority of his professional career working for and creating several entrepreneurial endeavors in both the for-profit and nonprofit sectors. He will be responsible for advancing MdBio's overall mission, as well as day-to-day operations, fundraising, development and launch of MdBioSphere(TM), and supporting all educational programs, including the MdBioLab. The MdBio Foundation will continue to work closely with the MdBio Division of the Technology Council of Maryland to support the bioscience industry in Maryland.
"We are thrilled to have Brian on board at the helm of MdBio," said J.J. Finkelstein, chair of the MdBio Foundation. "His work in the philanthropic community, combined with his experience in finance and operations, and his entrepreneurial background, will make him a great asset in helping grow the foundation and supporting our mission."
back to top
---

The Tech Council of Maryland, Maryland's largest technology trade association with more than 400 biotechnology and technology members employing more than 200,000 in the region, today announced that Art Jacoby is stepping down from his CEO duties effective February 15, 2013 to return full-time to his consulting practice. TCM has commenced an executive search to identify its next CEO.
"I want to thank Art for his exemplary leadership of TCM," said Larry Letow, chairman of the Tech Council, who also is president and CEO of Convergence Consulting. "We have accomplished a great deal during his tenure and wish him success in his consulting practice. Moving forward, the TCM Board will conduct a thorough executive search that takes into consideration the valuable insights of TCM stakeholders. We look forward to identifying the best possible leader to advance TCM's mission of helping Maryland technology companies collaborate, grow and succeed."
back to top
---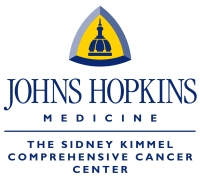 Scientists at the Johns Hopkins Kimmel Cancer Center have combined the ability to detect cancer DNA in the blood with genome sequencing technology in a test that could be used to screen for cancers, monitor cancer patients for recurrence and find residual cancer left after surgery.
"This approach uses the power of genome sequencing to detect circulating tumor DNA in the blood, providing a sensitive method that can be used to detect and monitor cancers," says Victor Velculescu, M.D., Ph.D., professor of oncology and co-director of the Cancer Biology Program at Johns Hopkins.
back to top
---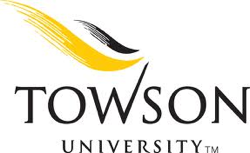 As of Friday, the Division of Economic and Community Outreach changed its name to the Division of Innovation and Applied Research.
The department "serves as a point of entry for businesses, non-profit organizations, government agencies, and community members interested in collaborating with the University," according to Towson's website.
The name change is a small part of the work that Dyan Brasington, the vice president for Division of Innovation and Applied Research, is doing under President Maravene Loeschke.
back to top
---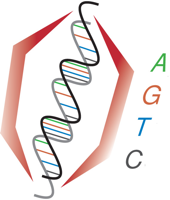 Applied Genetic Technologies Corporation, (AGTC), a privately-held, clinical stage biotechnology company developing gene therapy products to treat rare retinal diseases, announced today that it has secured $37.5 million in a Series B round of financing.
Alta Partners and S.R. One, Limited led the financing, with new investor Osage University Partners joining existing investors InterWest,Intersouth Partners and MedImmune Ventures in the round. The funding will allow AGTC to continue development of its Phase 2 program in Alpha-1 Antitrypsin Deficiency (Alpha-1) and initiate full development of potential treatments for two orphan ophthalmology indications, Achromatopsia (ACHM) and X-Linked Rentinoschisis (XLRS).
back to top
---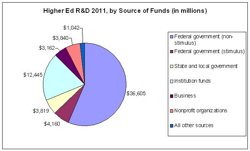 Research university administrators are understandably jittery about the fiscal cliff facing policy makers in Washington, given the prospect that federal budget cutbacks would shave -- if not savage -- government funds for academic research and development.
A report released Wednesday by the National Science Foundation provides a reminder about how painful the fall off the cliff might be. The agency's annual look at research spending by universities -- which is driven heavily by federal funds -- shows that R&D spending surged to its highest level ever in 2011, to $65.1 billion. That was up 6.3 percent from 2010's $61.2 billion, with both years' figures inflated by funds included in the economic stimulus law that Congress passed in 2009.
back to top
---

Baltimore City's technology incubator, Emerging Technology Center (ETC), announced today that 14 experienced mentors have agreed to participate in the 2013 program, AccelerateBaltimore™. AccelerateBaltimore™ accepts hundreds of applications, from all over the nation. ETC reviews and evaluates each submission, looking for strength in idea and offering. A distinguished panel of tech business leadership selects the top six companies to participate in a three-month program that helps focus and grow the 6 businesses.
AccelerateBaltimore™ participants engage with local and regional business mentors in a variety of sectors. This year ETC is proud to announce that 14 business leaders will join the program. Members of the mentoring team include Chris Brandenburg, Co-founder and CTO of Millennial Media, Greg Cangialosi, CEO of Nucleus Ventures, Ron Schmelzer, CEO of Bizelo and Co-founder of Baltimore Tech Breakfast and Andrew Coy, Co-Executive Director of Digital Harbor Foundation, Ann Quinn of Quinn Strategy Group, Victoria McAndrews of CMD, and Russell Clark Co-Founder of Illuminis.
back to top
---

In a commentary to be published in the Dec. 12 issue of The Journal of the American Medical Association, two Johns Hopkins faculty members predict an ever-diminishing role for government and drug company funding of basic biomedical research and suggest scientists look to "innovative" kinds of private investment for future resources. Current negotiations in Washington over sequestration and the so-called "fiscal cliff" provide an opportunity to fundamentally rethink the funding of biomedical research, they say.
Pointing to a decade of flat government funding for biomedical research, higher-than-ever costs of clinical trials, reduced drug industry investment and the threat of deep cuts to the federal research budget without congressional action by January to stop them, the commentators warn that without "creative" new sources of funding, biomedical innovation faces a crisis.
back to top
---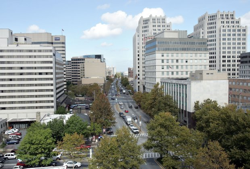 Businesses that receive economic development money from Montgomery County soon might have to share some of their profit with the county government.
A bill being introduced in the Montgomery County Council would give the county up to 25 percent ownership in companies that receive economic development funds. That means if a company is successful, the county can profit off it.
Steve Silverman, director of the county Department of Economic Development, said the county currently gives forgivable loans to companies that promise to create a certain number of jobs and occupy a certain amount of space in a certain time period. He said it makes sense for the county to consider having a stake in companies it invests in.
back to top
---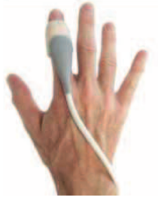 The goal of the Telemedicine and Advanced Technology Research Center (TATRC) of the U.S. Army Medical Research and Material Command (USAMRMC) is to translate research into new products to advance the care of the Nation's war fighters. TATRC is deeply aware that it must encourage that next breakthrough to enhance military health, while making effective use of the federal funds that it stewards.
To determine what it should fund, TATRC must decide whether a new technology solves an important problem and who would purchase it. While all TATRC project proposals are expected to provide detail on commercial potential, the reality is that many researchers do not have the knowledge or resources to assess this effectively and develop a commercialization strategy on their own.
Download the PDF: TATRC's Technology Transfer/Commercialization Program could be a model for speeding viable medical innovations to the warfighter
back to top
---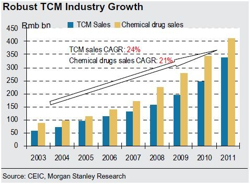 According to the consensus, traditional Chinese medicine (TCM) will fall in popularity as young people grow up and demand chemical medicines.
But Morgan Stanley's Bin Li disagrees.
"TCM is becoming more popular. According to CEIC, growth in the TCM industry is higher than in the western medicine industry. TCM industry sales reached Rmb423bn in 2011, representing a 24% CAGR over 2003-11, versus 21% for western medicines. Based on our AlphaWise survey, nearly 30% of doctors trained in western medicine use TCM as a first-line therapy and 46% use TCM alone or together with western medicines to treat patients. Because TCM has a long history in China, many Chinese people, including the younger generation, prefer to use TCM to combat chronic diseases. Given the strong endorsement from physicians, we believe demand for TCM will remain high, as drug choices are generally made based on doctors' recommendations."
back to top
---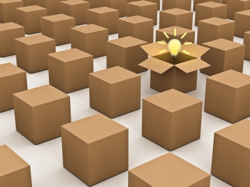 There's a new early stage angel fund in town, and it's on the hunt for creative, out-of-the box ideas for improving the delivery of healthcare using fewer resources.
The Alliance Healthcare Fund focuses on helping early stage business-to-business healthcare companies bring to market ideas that improve acute care, reduce spending and challenge the status quo.
In pure dollar terms, it's a relatively small fund, but partner Joe Mayernik said the real value comes elsewhere.
back to top
---

Established companies such as Dell Computer (NASDAQ: DELL) and Becton Dickinson (NYSE: BDX) say they are eager to invest in health IT startups—they just need to figure out how the U.S. healthcare system is going to evolve over the next five years; what applications are most likely to get reimbursed; what technologies make the most sense for doctors, for patients, and for insurers; and how they can mesh a startup's culture with highly regulated, slow-to-change industries.
That was the confusing message from a conference for entrepreneurs and investors in New York on Tuesday, sponsored by the Life Sciences Angel Network, titled Healthcare Information Technology: Change, Outlook & Opportunity. One of the speakers, Steve Hochberg, has started or invested in some 12 early-stage medical technology companies, and last year was named chairman of Continuum Health Partners, New York City's largest hospital network. Yet he told the meeting that when it comes to health IT, "the healthcare delivery system is so complicated that I've chosen to invest elsewhere."
back to top
---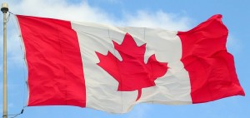 As healthcare providers implement the changeover to electronic medical records and meaningful use requirements, the opportunities seen by health IT companies aren't restricted to US businesses. The Consulate General of Canada in Philadelphia is planning to launch a health IT accelerator at the beginning of next year. The goal? To help Canadian companies to chase a significantly larger market with the potential to grow US jobs in the process.
Vincent Finn, a Philadelphia-based trade commissioner with the Consulate General of Canada, said the initiative has the potential to create high-paid jobs. Canada has already established technology accelerators in San Francisco and New York and a clean energy accelerator in New York. The companies selected for the health IT accelerator at the University City Science Center will be among those Canadian companies participating in the upcoming eHealth summit scheduled for November 28.
back to top
---