– Winner to be announced during 2018 BioHealth Capital Region Forum –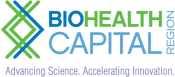 Five companies have been selected to present to a panel of investor judges and an audience of industry leaders during the 2018 BioHealth Capital Region Forum, April 23-24, at the MedImmune campus in Gaithersburg, Maryland. Founded by BioHealth Innovation, Inc. (BHI) and MedImmune in 2016, the annual Crab Trap Competition highlights companies from throughout the region in varied stages of business development and industry sectors. Open to applicants from Maryland, DC and Virginia, previous winners are Johns Hopkins University spinouts: LifeSprout (2017) developing the next-generation of synthetic soft tissue substitutes for aesthetic and reconstructive medicine, and Sonavex (2016), developer of a pipeline of novel ultrasound solutions to visualize and quantify critical clinical data for improved outcomes and reduced costs in new surgical applications. The 3rd Annual Crab Trap Competition is sponsored by Wilson Sonsini Goodrich & Rosati. The grand prize includes $10,000, incubation space in either Montgomery County, MD or Prince William County, VA, and business mentoring.
The 2018 BioHealth Capital Region Crab Trap Finalists presenting at the forum at 9:00 a.m. on Tuesday, April 24th, are:
AlgometRx (Washington, DC) - developer of a digital medical device precision dosing tool which objectively measures the type and intensity of pain in real time, and also determines drug effect to personalize interventions used for pain management in both adult and pediatric patient populations.
Cellth Systems (Baltimore, MD) – developer of proprietary personalized medicine cell-tethering technology which identifies the ideal treatment drug(s) for oncologists and cancer patients.
Galen Robotics (Baltimore, MD) – developer of a low-cost, compact, and intuitive to use novel microsurgical robotic platform designed to assist surgeons with minimally-invasive applications in otolaryngology, neurosurgery and similar critical fields.
Renalert (Baltimore, MD) - developer of a real time renal monitoring platform. The company's mission is to prevent needless deaths due to Acute Kidney Injury
ReveraGen BioPharma – developer of vamorolone which targets the benefits of corticosteroids while dramatically reducing untoward side effects (i.e. bone fragility, stunting of growth, mood disorders, cataracts, and problems with glucose homeostasis). Reveragen has completed Phase 1 and First-in-Patient studies in boys with Duchenne.
The Crab Trap finalists will be presenting to a panel of prominent industry funding experts and executives including:
Rich Bendis (Moderator), President & CEO, BioHealth Innovation, Inc.
Christian Barrow, Executive Director, Life Sciences, J.P. Morgan
Shaun Grady, VP, Strategic Partnering & Business Development, AstraZeneca
Sara Nayeem, Partner, New Enterprise Associates (NEA)
Dr. Paul Silber, Founding Principal, Blu Venture Investors
Robert Silverman, Head Externalized Drug Discovery Partnering, Roche
Stephen Zachary, Associate, Sands Capital Ventures
About BioHealth Capital Region
The BioHealth Capital Region (BHCR) consisting of Maryland, Virginia, and Washington, DC is the prominent BioHealth cluster in the Mid-Atlantic. The BHCR encompasses more than 800 life sciences companies, over 70 federal labs and world-class academic and research institutions. According to Genetic Engineering News (May 2016), the BHCR is ranked 4th in Top Biopharma Clusters in the country. The BHCR brand represents collaboration among leading stakeholders with a collective goal to make the BHCR a top 3 biohealth cluster by 2023. http://www.biohealthcapital.com/
Media contacts:
Rich Bendis
Phone: 301-637-6439, e-mail: This email address is being protected from spambots. You need JavaScript enabled to view it.